RFID + NFC = NExT implant
NFC (the tech used in mobile phones for contactless payments and contact exchanges) and RFID (used in product identification/tracking, building access cards and many other things) are found everywhere these days. I played a little bit with cheap tags that can be used to interact with phones, but implants are getting more practical, so I decided to give one of them a go!
(I know, I know: technically, NFC "is" RFID - or, specifically, is a set of protocols built upon a subset of the RFID ones, but I'm going with the commonplace usage of the terms: "RFID" for the unregulated "low frequency" 120-150 kHz tags that use all sorts of proprietary protocols, "NFC" for the "high frequency" 13.56 Mhz devices using specifically NFC)
I didn't want to limit myself to a single technology (or to go with two implants), but Dangerous Things (yes, that's the company name 😅) sells the NExT: an implant with both an RFID chip (that can simulate - or "clone" - fobs and tags on the wild) and an NFC chip (which can store 888 bytes of data, accessible to any NFC reader I touch, including smartphones).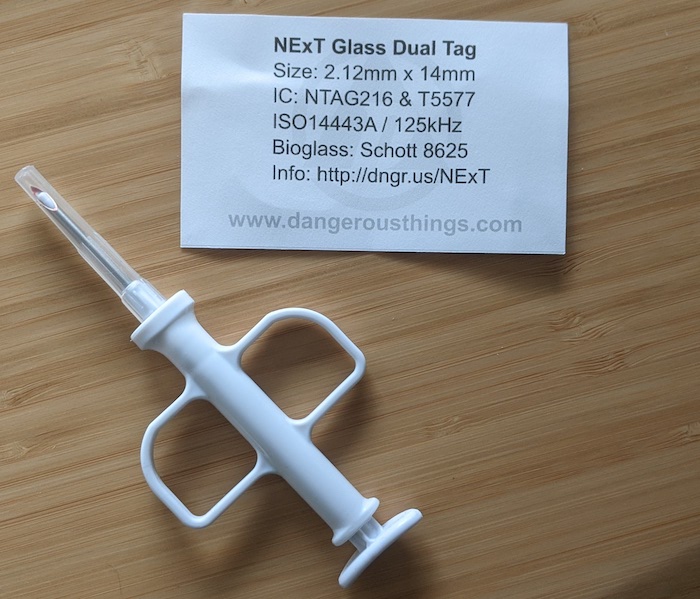 There are some limitations: its NFC can't be used for payments (like, for example, the Walletmor), and the RFID can't emulate super advanced security, or hold multiple tags, but the combination is enough for a lot of uses, plus it's a field-tested set of chips that should be operational for years and years, so I chose it.