Muito bacana esse The Amazing Adventures of Puny Parker, do Vitor Cafaggi. É um quadrinho fanfic absurdamente bem desenhado, colorido e finalizado que ilustra as hipotéticas aventuras de uma versão infantil daquele que se tornaria o Homem-Aranha. O resultado lembra um pouco Calvin e Haroldo, em termos de leveza e profundidade, mas tem sotaque próprio:
Ah, ele faz todas as tiras em dois idiomas. Pessoalmente, gosto mais da versão em inglês:
Nem todas as tiras são coloridas, mas a arte é sempre excelente:
Curiosamente, a própria Marvel já fez algo assim: algumas edições gringas de gibis do Homem-Aranha traziam Petey – The Adventures of Peter Parker Long Before He Became Spider-Man. Também é interessante (e eu me impressiono com o letreiramento fora do "esquema" Marvel), mas a verdade é que nem se compara ao trabalho do Cafaggi: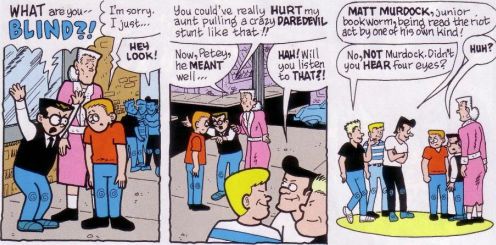 Navegar nos arquivos é meio trabalhoso, em particular nas tiras mais antigas, quando versões em inglês e português ficavam em posts separados. Mas vale a pena, e embora um dos filmes seja suficiente para ambientar o leitor, os fãs dos quadrinhos se divertem ainda mais com as referências mais sutis.