As everyone else on the planet, I got hooked on 2048 and amazed by the variants that sprouted. Its simple rules and graphics are one distinctive characteristic. "It's so simple", I thought, "that it really could have been done on an Atari". And once you have such an idea…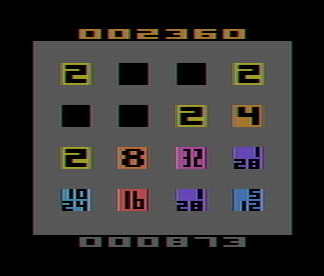 That's right: this is a version of 2048 for the Atari 2600! It took me about 16 hours of work to get to a playable prototype, and about 50 hours for the final version, spread over a couple weekends and nights during which I was refining the core game and squeezing features like sound, two-player mode, and a high score.
During this period it briefly made the front page of Hacker News, received lots of great feedback on Atari Age and RVG, and got a couple of contributions (bug fix, PAL support). The 2048 source was also helpful - even though I had to rethink the whole shifting/merging strategy, it provided a nice foundation with very readable code.
The project page has all the instructions and files you need to run it on an emulator, on a real console or even in your browser. The remainder of this post shows some technical notes (which can also be found at the main assembly source file).